Mobile Truck Advertising and Mobile Billboards from Ads-N-Motion
Ads-N-Motion is part of the nation's largest mobile truck advertising network. With three packages and the ability to customize our truck to suit your needs, our mobile billboards are a surefire way to capture attention, engage an audience, and spread the word about your business, product, or event. Serving clients in the Michigan, Indiana, Ohio, and greater Chicago areas, we have an established, proven track record of delivering results.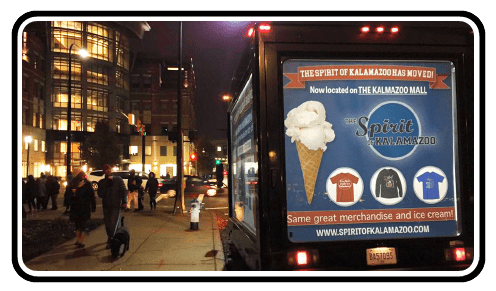 Three mobile advertising packages: Whether you're looking to share our mobile billboard truck with other businesses or you're interested in exclusive advertising and custom routes, we offer a range of advertising packages.
Customizable features: Our mobile billboard truck allows you to break out of the bounds of traditional advertising with the ability to integrate lighting systems, scrolling panels, and external speakers.
Time-tested and proven effectiveness: Having served the area since 2013, our mobile truck advertising has a track record of successfully marketing businesses and events – both local and national – including Ikea, Kalamazoo Ribfest, Erbelli's and Jackson Hewitt.