Ads-N-Motion's Mobile Billboard Truck with a 3D Glass-Walled Display!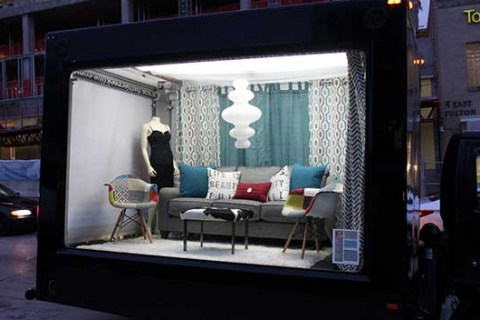 Recently, Ads-N-Motion teamed up with KalamazooKitty.com to create a glass-walled display of their unique home staging designs. Aiming to showcase their work, the display allowed them to show, in three-dimensional space, exactly what one of their staged homes looks like. As a mobile advertising tool, there's no better way to show customers a real, tangible product than to utilize one of our glass-walled displays.
Our truck, offering an abundance of interior space, is a great place to show off your business' products. And, with the ability to integrate lights and music, we can help you gain attention throughout the city, day or night, rural or metropolitan. Offering customers the chance to really get to know your products – or services – the glass-walled display truck lets you set the scene and create the perfect conditions. Most importantly, its high visibility ensures that – no matter where it goes – all eyes will be on you!
At Ads-N-Motion, we're proud to be a part of the nation's largest network of mobile billboard trucks. Offering a variety of plans, as well as the ability to customize our truck to your precise needs, we're confident that we can help you raise awareness and market your product. If you've been searching for a novel, eye-catching way to promote your business, contact us today to discuss how we can help!