Advertising with Ads-N-Motion Mobile Billboard Trucks in Kalamazoo and Beyond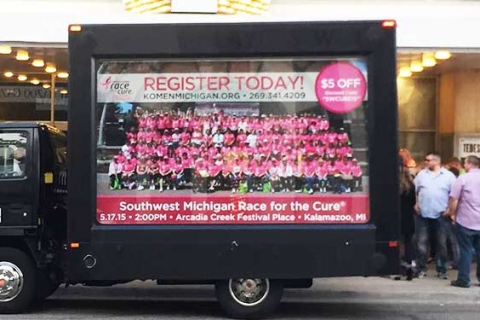 Ads-N-Motion mobile billboard trucks proudly serve Kalamazoo, Grand Rapids, Chicago, South Bend, and the entire Great Lakes area. If you own or run a business in one of these areas, mobile billboard truck advertising from Ads-N-Motion may be the perfect way to maximize the impact of your outdoor advertising budget. As you can see in some of our past blogs, mobile billboards have a proven track record of attracting customers at a higher rate than static billboards.
Unlike traditional, static billboards, mobile billboard trucks are not easily ignored. Our trucks can move through areas where you know potential customers reside and where traditional billboards are not allowed. What you want to do with your mobile advertising is up to you, too. Whether you want to go all out with flashy colors, lighting, and decorations, or if you prefer a more simple scrolling advertising, the team at Ads-N-Motion can help.
As mentioned above, our mobile billboard trucks have several different customizable features available for our customers. You shouldn't settle for traditional, easily ignored advertising. Instead, tailor your message (and delivery) by working with the experts at Ads-N-Motion. You should customize our truck to complement your business's style.
If you choose to work with Ads-N-Motion, your mobile billboard advertisement will include lighting systems to keep your message visible (even at night), scrolling panels that showcase and deliver multiple messages, glass panels to show off your products displays, and eight external speakers to play music, jingles, or other advertisements for your business.