Customize and Target Your Out of Home Advertising with Ads-N-Motion Mobile Truck Advertising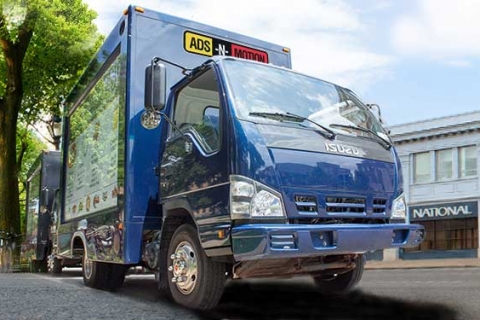 Do you feel like your company's physical advertising needs a makeover? Do you want a less traditional advertising appearance that doesn't draw the potential customer away? Ads-N-Motion uses mobile truck advertising that has attracted potential customers in Kalamazoo, Chicago, South Bend, and the entire Great Lakes area since 2013. In today's post, we are going to discuss customizing and targeting customers with our mobile truck advertising.
Customizable Features
Here at Ads-N-Motion, You can customize our truck to target your audience with your company's theme and style. Whether you prefer flashy or a more simple and traditional advertising, we are here to help. Some of our features include lighting systems that will help keep your message visible, scrolling panels to help keep your messages going at a pace that is not too fast to where the reader loses your message, glass panels to show off your product displays, and eight external speakers to play music or advertisements.
Larger, More Targeted Reach
With the option of being able to choose your routes, pick which events you want your mobile advertisements to be a part of, or even just a package that lasts for six hours, you can target specific areas that are likely to respond to your advertisement, as well as draw in more impressions compared to plain, traditional billboards. If you are having trouble finding the right areas to target your products and advertisements, we can help you determine these categories, events, and times to help coordinate with your company's OOH (out of home) advertising campaign.
With our unique customizations and affordable mobile truck advertising display packages, we are guaranteed to provide the best OOH advertising for your company that will help accomplish your company's goals. If you want to explore advertising outside of the online marketing world, do not hesitate to give a call today.