Four Reasons to Choose Mobile Truck Advertising from Ads-N-Motion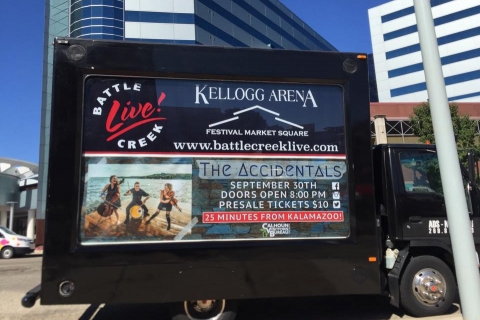 Our mobile billboard advertisements are displayed on our trucks that include lighting systems to keep your message visible, scrolling panels that can deliver multiple messages, glass panels that show off product displays, and eight external speakers that can play music or advertisements. Mobile truck advertising is often more effective than static advertising. In this post, we will look at four reasons to choose mobile truck advertising from Ads-N-Motion.
Less costly, yet effective
More often than not, mobile truck advertising costs less than TV commercials or static billboards and is one of the most efficient ways of advertising because of it's effectiveness and relatively low cost.
Better, larger reach
It's not surprising that mobile truck advertising has a better, larger reach than static billboards that stay in one place. The trucks with the advertisement will be driven in the most effective areas at peak times in order to gain the most exposure from your target audience.
More control
You can work with your driver to determine the areas and times that are most effective for your advertisement. You can also choose the frequency, and type of mobile display you will use.
Easily noticed
With your advertisement being driven around at eye level it is more easily noticed than static billboards. Research even shows that mobile billboards last in potential customer's minds longer than digital and print ads.