Increase Your Reach and Impressions with Ads-N-Motion Mobile Truck Advertising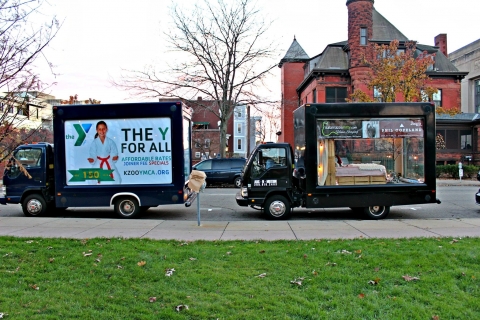 Are you in need of an out-of-the-box, but affordable way to target your consumers and advertisements? With Ads-N-Motion, our unique, high-profile displays capture attention and create a strong emotional connection with viewers. Our advertising trucks are constantly in motion, moving throughout the areas where you know that potential customers reside. No matter what type of customization you would like for your mobile truck advertising, Ads-N-Motion can help.
Share Scrolling Package
With our share scrolling package, you will be sharing a truck with up to five other businesses. The traditional package lasts for six hours, and there is a discounted rate for those who advertise for more than 10 days. With this package, you can showcase not only your business, but other businesses you are affiliated with, which can lead to an increase in impressions.
Premium Exclusive Package
Not only do you get the spotlight if you choose this package, but you will also be able to choose your routes and pick which events you want to be a part of, which in return can help you gain a more targeted reach and audience.
3D Glass Display
Do you need to have more than one advertising display? Our 3D glass display has got you covered! With this package, you can utilize our see-through sides and create a mobile product display to show your audience what your products look like in-person.
With our packages, we ensure you our mobile trucks will make you want to utilize mobile truck advertising into your budget and increase the impressions and reach in your advertising campaign. No matter what your goals or budget are, we want to help you have the best out mobile truck advertising for your campaign. Contact us today for a free estimate!