The Many Benefits of Mobile Truck Advertising in Kalamazoo and Beyond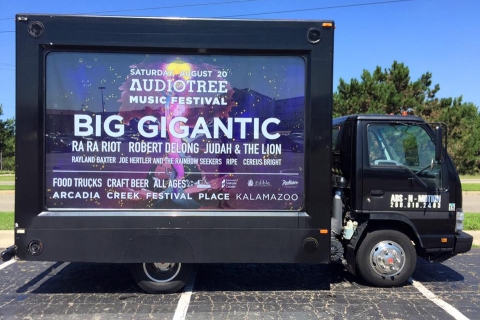 Even with the prevalence of online marketing and advertising, physical advertising is still hugely important for businesses. While traditional billboards are print do draw in customers – research done by the American Trucking Association and Outdoor Advertising Association of America show that mobile truck advertising gives twice the amount of impressions as static billboards for the same amount of money and twelve times the impressions as advertisements in traditional print media. In this post, we will look at why mobile truck advertising is rising in popularity and may be right for your business.
The time Americans spend in their cars has steadily increased over the last decade, up 31% in 2016 from 2003. As stated in the intro, with mobile truck advertising you get more bang for your buck than a traditional billboard and people seem to remember mobile advertisements more often than advertisement done on static billboards.
Another great benefit is the fact that you can reach people in areas where traditional billboards are not present or allowed such as higher income, generally restricted residential areas. With more people behind the wheel traffic and commutes have increased which means you have more opportunities to reach potential customers.
At Ads-N-Motion, our mobile truck advertising can be seen in Michigan, Indiana, Ohio, and the greater Chicago area as we are lucky to be a part of the nation's largest network of multimedia, mobile billboard trucks. Unlike mobile truck advertising that is just a graphic put on a semi trailer; your custom mobile advertisement will be displayed on three sides of our truck with backlighting at night that ensures potential customers are drawn to your message. If you're interested in learning more about our mobile truck advertising services, do not hesitate to give us a call today!