Three Ways that Mobile Billboard Trucks from Ads-N-Motion Garner Attention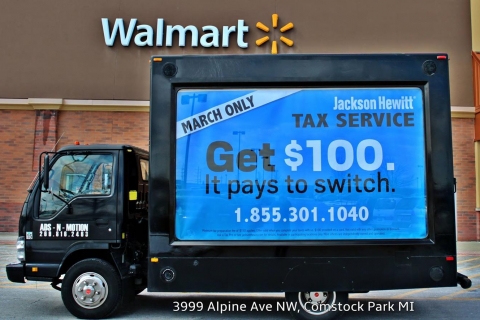 Even with the prevalence of online marketing and advertising, physical advertising is still hugely important for businesses. While traditional billboards are print do draw in customers – research done by the American Trucking Association and Outdoor Advertising Association of America show that mobile truck advertising gives twice the amount of impressions as static billboards for the same amount of money and twelve times the impressions as advertisements in traditional print media. In this post, we will look at three of the ways that mobile billboard trucks from Ads-N-Motion garner attention.
More memorable
A study was done by APN Outdoor that used brain scanning technology that found a mobile (moving) advertisement has almost a 50 percent higher peak exposure than static advertisements. This level of engagement with a brand can create increased recall. Our 3D glass displays are particularly memorable and work great to promote product with our mobile product display.
More targeted
Unlike a static billboard that stays in one place, a mobile billboard truck allows your advertisement to be present in a more targeted, specific area that is likely to respond to your advertisement. We can work with you to determine the best locations, events, and times to run your mobile billboard truck advertisement.
Working with digital
Using an out of home advertising (OOH) campaign in conjunction with a digital campaign focused on smartphones can increase reach by over 300 percent.